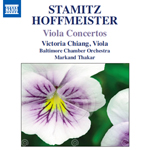 HOFFMEISTER & STAMITZ: Viola Concertos
STAMITZ Viola Concerto no. 1
HOFFMEISTER Viola Concerto in Bb
HOFFMEISTER Viola Concert in D
Victoria Chiang, viola / Markand Thakar, conductor / Baltimore Chamber Orchestra
NAXOS 8.572162
THE MINNESOTA PUBLIC RADIO FEATURE
New Classical Tracks -
Violist Carefully Polishes Rare Gems of the 18th Century
by Julie Amacher, Minnesota Public Radio
August 16, 2011

St. Paul, Minn. — Recently the bird watching world was all a flutter when a gray-hooded gull, from possibly Africa or South America, showed up on the shores of Coney Island. It was a rare find to catch a glimpse of this special gull with its light-gray head, pale eyes, red legs and red bill. Equally rare, were concertos for the viola in the 18th century. This may seem odd since the viola was a standard orchestral instrument and a member of the string quartet a very progressive and important music genre at the time. It probably had more to do with the lack of viola specialists. Victoria Chiang is just such a specialist. She's a founding member of the Aspen Ensemble Quintet, and she serves on the artist faculty at the Peabody Conservatory of Music and the Aspen Music Festival. Her latest recording features three 18th century viola concertos each of which has real historical and musical importance...

Read entire article
I've long been a fan of Victoria Chiang. As a violist, it's hard to find good role models—they're few and far between, especially when it comes to 18th-century repertoire. As the CD notes state, "Concertos of the viola are among the most rare of all 18th-century works." But Chiang has long been known as the great communicator when it comes to this instrument. She pulls a rich and dynamic sound out of the viola, something that commands both attention and respect.

In her recording of Carl Philipp Stamitz's Viola Concerto No. 1 in D major; and Franz Anton Hoffmeister's Viola Concerto in D major, and Viola Concerto in Bb major (both with the Baltimore Chamber Orchestra, under the direction of Markand Thakar), she channels something extra special—her powerful sound is explosive. With the deft Baltimore orchestra at her back, Chiang stands at attention, creating a virtuosic wall of sound. It is hard not to hold your breath as she executes the amazing runs penned by Stamitz.
Strings Magazine
There is no doubting…the craftsmanship that has gone into these Concertos and especially the writing for viola. It is given a relatively uncommon chance to shine as a bringer of melodic cheer, not tear, especially in the Hoffmeister works. Of these the first movement of the B flat Concerto, featuring a fine cadenza written by Suzanne Beia, and the Adagio of the D major work, are particularly memorable.

The Baltimore Chamber Orchestra perform on modern instruments, but with appropriate restraint and elegance. Their music director Markand Thakar guides them thoughtfully through the scores. Though not especially challenging for the ensemble, they nevertheless require just this kind of insightful reading to bring them to life.

Victoria Chiang's job is somewhat harder, with plenty of technical demands, especially double-stopping in the Stamitz, that have no chance, however, of catching her out. Her tone is attractively rich, her intonation splendid and her fingers nimble.

Sound quality is good, warm and well balanced… The CD booklet is slim but informative…
Byzantion--MusicWeb International, September 2011
The present CD should demonstrate conclusively that brilliant violists do exist...A most beguiling tone [and] technical facility and intonation areall that one could wish for, plus there is a nice expressive content to her playing. These are not what you would call "historically-informed" performances, but that hardly matters considering the beauty of the playing...A delightful hour of viola playing—highly recommended.
Fanfare
…the recent Naxos release of a CD of Viola Concertos by Stamitz and Hoffmeister (8.572162) is a welcome one. It's an intriguing one as well, for viola concertos were not that common in the 18th century. Violist Victoria Chang is perfectly at home in this charming, if somewhat insubstantial, music and receives excellent support from the Baltimore Chamber Orchestra under Markand Thakar
Terry Robbins--The WholeNote, November 2011
It's easy to hear how Stamitz was able to move an audience to tears. Chiang's performance is equally beautiful.
Minnesota Public Radio
Chiang's dynamic, expressive playing makes the most of the music with her beautiful tone and tasteful phrasing. She receives smooth, stylish backing from the ensemble.
Tim Smith, Baltimore Sun
The solo part itself includes multiple stops, harmonics, and passagework worthy of a true virtuoso; Chiang never lets you imagine the sweat.
James Manheim, allmusic.com
Victoria Chiang makes for a superb soloist, with no second thoughts about what technical demands there are and with the richness of tone necessary to really "sell" the viola as solo instrument.
MusicWeb International
The concertos...provide a fine opportunity for Victoria Chiang to excel in the solo role, with Markand Thakar and the Baltimore Chamber Orchestra offering balanced and attractively buoyant backup....They are filled with lovely moments and are quite well played on this CD.
Infodad.com
The playing is polished and always falls gratefully on the ear. A very pleasant release.
ClassicsToday.com
Chiang reveling in the moments of virtuosity; stylish and well balanced support from the Baltimore players; good sound engineering. Much recommended.
David's Review Corner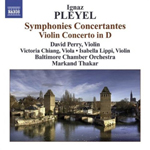 PLEYEL Sinfonia Concertante
IGNAZ PLEYEL Symphonies Concertantes, Violin Concerto in D
David Perry, violin; with Isabella Lippi, violin, and Victoria Chiang, viola
Baltimore Chamber Orchestra, Markand Thakar, conductor
NAXOS 8.570320
The international viola congress held in Cincinnati, Ohio, in June 2010 was uncommonly rich in highlights, but even among them the performance of Pleyel's Symphonia Concertante in B-flat by David Perry and Victoria Chiang shone brightly…The piece had already been recorded in the 1970s by Isaac Stern and a moonlighting Pinchas Zukerman, with conductor Daniel Barenboim trying to turn it into Brahms's Double Concerto. The present performance incurs in no such indulgence, the Baltimore Chamber Orchestra being just the right size for this rather feather-weight but nevertheless beautifully crafted music. Perry and Chiang are wonderfully attuned to each other, as they have to be, since the solo parts often take recourse to what in Germany is known as "Schweineterzen" ("swines' thirds"), with both parts locked in parallel thirds for considerably long periods. Otherwise, both players are given solo spots of the "anything you can do, I can do higher" kind, which they audibly relish. The two-movement violin/viola piece is by some way the shortest on this CD, which makes it all the more enjoyable. In spite of a touching slow movement, the one for two violins seems to go on for just that bit too long and without the tonal contrast offered by the viola's presence. Especially, let it be added, when it is graced by Ms. Chiang's nicely dark, slender tone.
Journal of the American Viola Society
INNOCENT AND ATTRACTIVE CONCERTOS FROM A CONTEMPORARY OF MOZART AND HAYDN
Haydn's pupil Ignaz Pleyel is today remembered man as a publisher, piano maker and inventor of the miniature score than for his music. But while he sometimes came under fire for imitating his teacher too closely (in this he was not alone), Pleyel's concertos, symphonies and, especially, his symphonies concertantes, were hugely popular in Paris and London during the 1780s and early 1790s. The two concertantes recorded here—the B flat for the Mozartian pairing of violin and viola, the A major for two violins—reveal a polished technique and a vein of amiable, on occasion ear-tickling, melodic invention. The A major, composed for London in 1792, is the more attractive of the two, with its plaintive siciliano slow movement and chic rondo finale. There is also a touching rninor-key Adagio, like a wordless aria, in the D major Violin Concerto, played here with the jaunty replacement finale Pleyel supplied for a performance in Strasbourg.

In the first movements of both the Violin Concerto and the B flat Symphonic concertante, Pleyel can amble and chatter to no great purpose. Certainly it would be futile in these leisurely, undemanding works to seek the inventiveness and tight formal control of Haydn who composed his own 1792 Sinfonia concertante in a spirit of friendly rivalry with his one-time pupil. Still, if none of these concertos is as interesting as the best of Pleyel's symphonies, explorers of the Haydn-Mozart hinterland should find plenty of innocent enjoyment here. Performances are more than acceptable, with trim playing from the (modem-instrument) Baltimore band, and assured solo contributions from David Perry (stylish and sweet-toned in the solo concerto) and his violin and viola partners.
Richard Wigmore, Gramophone, September 2009
Ignaz Pleyel (1757–1831) did not write a lot of music, and not a lot of his music has been recorded. My first exposure was some years ago, around 1972, when one of these pieces (I believe) was coupled with some Mozart on a Columbia album that featured Pinchas Zukerman as soloist. I didn't think too much of it at the time, but as I was still discovering the infinite variety of riches found in the Austrian composer, Pleyel seemed like another classical period wannabe whose light inevitably flailed in the radiance of Wolfgang. How wrong I was!

The nine or so concertos of varied stripes were composed during the composer's sojourn in Strasburg, working at a cathedral there. He did not write any during his youth despite the undoubted influence of his teacher Haydn. But as anyone can tell from the unarguable quality of these pieces, the Haydn influence remained. The B-flat work is easily categorized as a true double concerto, replete with all of the sparkle and wit one could want, and effortlessly competitive with just about anyone's. Well, okay, no one can compete with Mozart's same combination for violin and viola, but this one is close in quality if not ultimate profundity. The writing is lithe and clearly melodic, while the three-movement work in A (the B-flat has only two movements) has some clever harmonic twists that almost outdo Mozart himself.

The Violin Concerto in D given here actually has two versions, the original from around 1780 and a revision made after he publicly repudiated the first, for reasons unknown. In the revised work he greatly shortened the first two movements and added a completely new rondo, quite different in tone from the original last movement. The folks here have chosen to keep the rondo, but have coupled it with the first version of the concerto, restoring much music that Pleyel discarded. Naxos is offering a download of the first thoughts on the last movement free of charge if you buy this record, and if that interests you. To me the concerto, fairly long of its type in this guise (30 minutes) is still a superb example of Pleyel's art, and cannot be recommended too highly.

All the soloists and especially Mr Perry play with conviction and a keen sense of style. The Baltimorians are sufficiently attuned to the needs of Pleyel and to appropriate stylistic turns of phrase that make this a most rewarding release in excellent sound. At the price it cannot be beat.
Steven Ritter, Audiophile Audition, July 2009
The symphonie concertante, the descendant of the Baroque concerto grosso with its opposition of orchestra and solo group, remains a fascinating but little-known genre of the Classical era, with only Haydn's single example and a pair by Mozart, one of them with a murky history, in common circulation. Viennese composers wrote a few, but in France there are hundreds of unexamined examples of the genre. Thus any recording of this pair by Haydn's student Ignaz Pleyel (who was one of a staggering 38 children) is welcome; his works share an effusive, intensely sweet tone characteristic of the genre. Pleyel, like his teacher, was not a prolific composer of concertos of any kind. The symphonie concertante accounts for four of his nine concerts; he wrote them for various combinations, but the two here are essentially double concertos, one for violin and viola and the second for two violins. They're basically strings of melodies; the first work has no slow movement at all, and the second only a short, rather funereal interlude. It is in this overall structure, rather than in the handling of the solo instrument, that the two symphonies concertantes differ from the ordinary violin concerto that closes out the album. The booklet calls them expansive and leisurely, which is one way to look at it. The soloists are all attractive, but the Baltimore Chamber Orchestra under Markand Thakar, looking for a bright sound resembling the German chamber orchestras that used to specialize in the lesser-known music of the Classical period, is less than intonationally precise. The sound, recorded in a small Maryland auditorium, is a strong point, but this release will be of the most interest to Classical specialists.
James Manheim, Allmusic.com, June 2009
When I was listening to Ignaz Pleyel's two delightful Symphonies Concertantes and the Violin Concerto in D on a new Naxos release, I was reminded of Albert Einstein's remark that "the secret to creativity is knowing how to hide your sources." The first thing that came to mind was Mozart's glorious Sinfonias Concertantes. Why not be influenced by the very best? If you have room for some charm, here it is in Mozartian fashion.
Robert R. Reilly, InsideCatholic.com, May 2009
During my years as music director of a so-called "good music" station in Montreal, I was constantly on the lookout for recordings that while not of the hit-parade variety (Liszt's 2nd Hungarian Rhapsody, Rossini's William Tell Overture, et sim ad nauseam) still qualified as good classical fare, easily accesible and enjoyable by even novice listeners. Works of the 'Haydn-lite' variety such as these concertos by Pleyel were then worth their weight in gold. Even if tastes become jaded over time, there is enough melody, drama, humour and even excitement in them—qualities of which the performers in this case take full advantage—the whole recorded in excellent audio, and at just under 80 minutes, an outstanding value!
Giv Cornfield, The New Recordings, Cliffs Classics, May 2009
Ignaz Pleyel's life was a success story whether as a composer, conductor, piano manufacture or the proprietor of the most flourishing music publishing house of his time. As a composer he enjoyed more success than Haydn, who lived at much the same time, largely from his ability to promote his output though a chain of distribution outlets on both sides of the Atlantic. History would see that he was stylistically dated even when his music was being composed. To sample his uncomplicated character, turn to track 5, the jog-trot finale to the Symphonie Concertante in A major, and you will find early Haydn as the inspiration. In this genre he composed for a mixed selection of solo instruments—often offering alternatives—here played as a charming double violin concerto. Even in the Rondo finale, it is music at an unhurried pace and of easy-going attraction, the one in the earlier Concertante in B flat for violin and viola coming as a gentle dance. That work is in just two movements with a sturdy and more extended opening. So far as the Concerto is concerned, two versions exist and are enumerated in the enclosed booklet. I do find it strange that the recording links two movements from one with the finale of the other, but maybe I am missing something in the reasoning. Suffice it to say that it is a work of outgoing brilliance and impact, the American-born soloist, David Perry, revelling in the challenges offered. Victoria Chiang's viola and Isabella Lippi's second violin are admirable in the Concertantes, while the Baltimore Chamber Orchestra add a well balanced and cleanly detailed accompaniment.
David Denton, David's Review Corner, March 2009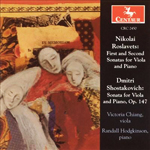 SHOSTAKOVICH & ROSLAVETS Viola Sonatas
ROSLAVETS First Viola Sonata
ROSLAVETS Second Viola Sonata
SHOSTAKOVICH Sonata for Viola and Piano, Op. 147
Victoria Chiang, viola; Randall Hodgkinson, piano
Centaur Records crc 2450
"Chiang (an exceptionally smooth-toned violist) and Hodgkinson make the most of the melodic content of the First, too, playing up the Faureesque bittersweetness of its thematic material rather than the heightening our sense of its rhythmic conflicts, and coaxing us with their flexible phrasing rather than startling us with their revelation of the music's contrapuntal density. The resulting performance is faster, less pressured, than Gridchuk's-and in the end, it makes a stronger case for the music.

Chiang and Hodgkinson resist current received opinion even more strongly in the Shostakovich. There is, perhaps, nothing heretical about their account of the ferociously obsessive middle movement, which Chiang plays with the gritty tone that she avoids elsewhere. But the opening Moderato and especially the closing Adagio gloss on the "Moonlight Sonata" are another matter. The current iconography of the bitter, dying Shostakovich has encouraged us to hear the slow movements of his late music as spare, static, and pregnant, each note carrying a poignant meaning- and the performances of the outer movements of the Viola Sonata, especially of the Adagio, have consequently tended to ignore the metronome markings and draw out the tempo, as if each note had to be given a chance to tell its tale of sorrow. Chiang and Hodgkinson, however, think in lines rather than points, cutting a good five minutes off the 18 that Bashmet and Muntian (16:4) devote to the finale-indeed, cutting a good two minutes off the relatively speedy Kashkashian/Levin account. As a result, the music seems less despairingly barren, less "remorselessly glacial," less like what Robert Carl calls "one of the great valedictory movements in music" than it often does. But if, like me, you've sometimes shared Royal S. Brown's belief that "the final Adagio never really makes a case for its constant flirtings with Beethoven's "Moonlight Sonata," this recording may well convince you of the music's quality. Certainly, it emerges with more—dare one say humanity?

In sum, these are the kinds of performances that encourage you to reexamine your presuppositions. The sound is fair, the annotation insufficient-but that's no obstacle to a strong recommendation."
Fanfare, The magazine for serious record collections
"This unusual program of Russian viola music makes for gratifying late-night listening."
American Record Guide
I have always looked forward to receiving recordings of violists with whom I'm not familiar. Ms. Chiang is an artist-faculty member of the Peabody Conservatory of Music and has had an extensive career of performing and teaching. I asked Ms. Chiang a couple of questions before writing this review. One was what kind of viola did she play? I expected to hear she played an instrument that was at least 100 years old since it had a lovely tone throughout its entire range. I was very surprised to hear it was made by Etienne Vatelot in Paris in 1997. Ms. Chiang is a daring and consummate artist of whom, I'm sure, we shall hear much more in the future."
Journal of the American Viola Society
"Violist Victoria Chiang, a current faculty member at Peabody Conservatory, has released an outstanding disc of viola works by Nikolai Roslavets and Dmitri Shostakovich. Chiang is to be commended not only for her excellent playing, but also for her compelling program, which demonstrates the inexhaustible invention of two very different composers."
Cadenza, An die Musik's Guide to New and Unique Recordings
"These two distinguished American musicians play both [Roslavets] sonatas persuasively. Victoria Chiang sounds altogether purposeful in the Shostakovich Sonata. The performances are very good."
Tully Potter, The Strad