New Classical Tracks - Violist Carefully Polishes Rare Gems of the 18th Century
By Julie Amacher
Minnesota Public Radio
August 16, 2011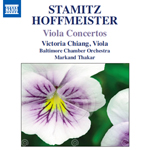 St. Paul, Minn. — Recently the bird watching world was all a flutter when a gray-hooded gull, from possibly Africa or South America, showed up on the shores of Coney Island. It was a rare find to catch a glimpse of this special gull with its light-gray head, pale eyes, red legs and red bill. Equally rare, were concertos for the viola in the 18th century. This may seem odd since the viola was a standard orchestral instrument and a member of the string quartet a very progressive and important music genre at the time. It probably had more to do with the lack of viola specialists. Victoria Chiang is just such a specialist. She's a founding member of the Aspen Ensemble Quintet, and she serves on the artist faculty at the Peabody Conservatory of Music and the Aspen Music Festival. Her latest recording features three 18th century viola concertos each of which has real historical and musical importance.
The first concerto on this recording is by Carl Stamitz. His famous father, Johann Stamitz, the leader of the celebrated Mannheim court orchestra, was his first teacher. Eventually, Carl Stamitz became a traveling virtuoso and a prolific composer. His compositions were quite popular in his day. Even Mozart admitted Carl was a pretty good composer. In his famous dictionary of musicians, Ernst Ludwig Gerber praised Stamitz's talents as a performer complimenting his, "extraordinary art and facility," and his "heavenly sweet tone." Stamitz had an advantage over most other performers on the viola and viola d'amore in that he composed the music he played. He tailored the solo part to show off his technical strengths, and to exploit the unique tone colors of the instrument. To match the darker hues of the soloist, Stamitz also calls for unusual orchestration giving the viola section two parts, and adding a pair of clarinets in place of the usual oboes.
Not only does Stamitz include dazzling passage work in his Concerto No. 1 in D, he also throws in virtuoso techniques like multiple stopped chords, harmonics and left hand pizzicato which Victoria Chiang artfully executes in the first movement. Stamitz takes full advantage of the viola's luscious rich sonority in the sensitive minor-key slow movement. Listening to this sumptuous melody it's easy to hear how Stamitz was able to move an audience to tears. Chiang's performance is equally beautiful.
This recording also features two viola concertos by Franz Anton Hoffmeister. In 1785 he established one of the first publishing houses in Vienna. For the next fifteen years Hoffmeister issued works by many prominent Viennese composers including Haydn, Mozart and Beethoven. These two viola concertos take on greater historical importance because Hoffmeister was the only prominent Viennese composer who wrote concertos for the instrument. In the sparkling rondo of the Viola Concerto in D, Hoffmeister exposes the viola's silvery upper range, as well as its lush lower register. This movement also displays the lighter side of the viola incorporating sudden stops in an almost comical way.
Victoria Chiang's goal in any performance is to be physically and spiritually free. That sense of freedom comes through in the sumptuous slow movement of Hoffmeister's viola concerto in B flat major. Her spot-on intonation, precise articulation, and gorgeous phrasing result in an emotionally elegant performance. Any rare find, whether it's an unusual bird on the shores of Coney Island, or a concerto written for an unconventional instrument, is a thing of beauty. This recording with violist Victoria Chiang, the Baltimore Chamber Orchestra and conductor Markand Thakar is a reminder that there are still many undiscovered gems in the 18th century repertoire.

Back to more recording reviews